HOMEMADE GRANOLA
Plow through your favorite bulk-food section to find the following ingredients…and have fun gradually adapting the ingredients and proportions to suit your own taste.
Ingredients:
6 cups old-fashioned, rolled oats (not quick oats)
1 cups raw, shelled, sunflower seeds
1 cup flaked coconut
1 cup sliced almonds
½ cup wheat germ or wheat bran
½ cup sesame seeds
2 tsp ground cinnamon
½ cup margarine, melted
1 cup brown sugar, packed
½ tsp salt
½ cup water
½ cup honey
2 cups raisins (can also use raisins + dried cranberries)
Directions:
Preheat oven to 350 degrees Fahrenheit.
In a large mixing bowl, add and stir all the dry ingredients together until evenly distributed.
In a medium-size saucepan, melt the margarine and add sugar, salt, water and honey. Stir and heat until sugar is dissolved and liquid is bubbly. Let cool a bit and then pour into the bowl of dry ingredients. Mix together with a sturdy spoon until the dry ingredients are evenly coated with the brown sugar-honey mixture.
Spread the granola in a large, ungreased pan [*See note below] and bake for 30-40 minutes, stirring occasionally, until the oats reach your preferred degree of "toasted." Remove from heat. Stir in the raisins, let the mixture cool and store in an airtight container. (Makes a lot.)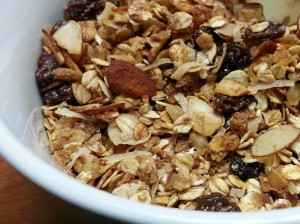 *Note: I mix the granola ingredients in a large, metal, oven-proof  bowl  and then put the whole thing in the oven. As long as I make sure to stir  often (and haven't over-loaded the bowl) this technique works just fine  and I don't have to worry about granola getting stirred out of the pan.