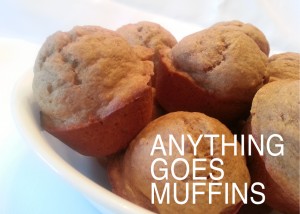 Here's your chance to make use of that 1 cup of leftover banana, pumpkin, applesauce, cooked oatmeal cereal or cranberry sauce, etc., that you might otherwise have thrown away.  So much scope for the imagination!  Such a fun way to be thrifty!  You should feel smug!
1 cup shredded zucchini OR carrots, applesauce, coarsely-grated apple, leftover cooked cereal, mashed bananas, cooked pumpkin or winter squash, etc.
¼ cup canola or vegetable oil
1 large egg
¾ cup milk or water
Preheat oven to 375 degrees Fahrenheit.   Grease muffin pan with shortening.½ cup brown sugar (packed)
2 cups all-purpose (white) flour (or 1 cup white and 1 cup whole wheat flour)
1 T baking powder
1 tsp salt
1 tsp ground cinnamon (optional)
Put the wet ingredients in a medium-size bowl and blend with the sugar. Add in the dry ingredients and blend just until moistened. Spoon the batter into greased 2 ½" muffin cups. Bake in the oven for approximately 15-20 minutes. Cool on wire rack. Makes 1 dozen muffins (that won't last long).