Well, it isn't fancy…but it's easy…and good…and frugal.  We all like it and you might, too.  And if you really want to be lazy, have your teenagers make the meal.  (That's why the directions are written they way they are.)
Ingredients:
1 pound (16 ounces) of lasagna noodles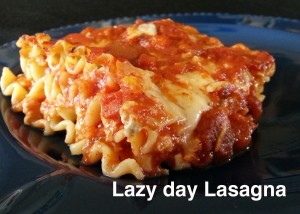 1 pound of mozzarella cheese, grated
1 pound of cottage cheese (or you might have to use ricotta cheese)
24  ounce can or jar of your favorite spaghetti sauce
Directions:
In a large pot, bring water to a boil.  Add lasagna noodles and cook for 10 minutes.  Drain the water out and run cold water over the noodles, so your fingers don't get burned.  Drain the water out again.
Oven:  Make sure the rack is in the middle or just above the middle of the oven and preheat the oven to 350
degrees Fahrenheit (a medium hot oven).
In a 9x 13 inch pan  (which means the pan measures about 9 inches one way and about 13 inches the next way) put 3 noodles across and 3 noodles high (which makes 9 noodles total) then put on half of the cottage cheese (or ricotta cheese) and spread it out over the noodles evenly.  Next, spread on half of the grated, mozzarella cheese evenly over the top of the cottage cheese.  Finally, pour half of the spaghetti sauce evenly over the mozzarella cheese and spread out to the edges with the back of a spoon or rubber spatula.
Repeat the above directions to make the second layer.
Bake the lasagna, uncovered, in the medium hot oven for about 30 minutes.  The sauce should be bubbling a
bit, but not black.  Do not put aluminum foil on the top of the lasagna when you store it in the fridge, because aluminum and tomato sauce react to each other.  The sauce makes holes in the aluminum and the aluminum makes the sauce a bit black and taste like metal.
Serves 6…maybe…