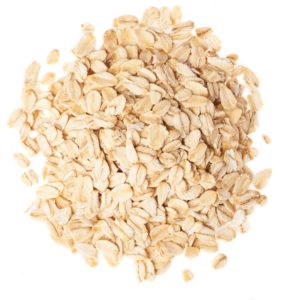 When someone who doesn't even like pancakes likes these pancakes, something about the recipe has to be okay…
---
Ingredients:
1 cup regular oats
2 cups water
1/3 cups   granulated sugar
1/2 cup     canola oil (or melted butter)
1 3/4 cup    cold water
4 large   eggs
1 tsp      vanilla extract
3 cups   all-purpose white flour
2 tsp     salt
8 tsp     baking powder [i.e. 2 Tbsp + 2 tsp baking powder]
Directions:
Combine the oats and 2 cups water together in a large, microwaveable bowl or container and microwave for approximately three minutes or so, stirring a couple of times. Add the sugar and canola oil or butter to the oatmeal mixture and set aside to cool.
In a separate bowl, whisk the cold water, eggs, and vanilla extract together, then gradually pour into the oatmeal mixture, stirring the entire time. [Note, if you add eggs straight into a hot mixture, they will start to cook.  Combining the eggs with the water and vanilla extract first, and stirring continually when pouring into the oatmeal mixture, should prevent this.]
Mix the flour, salt and baking powder together in a medium-size container, then add to the oatmeal mixture and stir just until blended. Pour about 1/4 –1/3 cup of batter onto a preheated griddle or skillet for each pancake.  Cook just until bubbles form in the middle of each cake and the edges start to dry. [Note: If the batter is thick, then lower the heat just a bit so the pancakes cook through without burning on the outside first.] Turn the pancakes with a metal spatula and cook until the other side is lightly browned and done.
Serve immediately.  Makes enough for 6 people.
Photo courtesy of Asier_relampagoestudio – Freepik.com