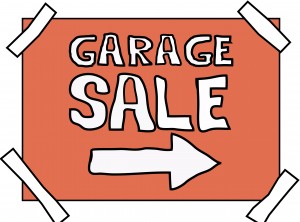 Hi, Beverly,
"I have [a] problem in finding a place to take the things I've finally decided to let go of. It feels like they are little pets that I have to find a good home for, rather than just dumping them off at the Goodwill. And for some items, I think they might be worth some money, but don't want to have people coming over from Craigslist to my home to look at them. So, why can't I just take them to a thrift store and forget them?"
Answer:
Hi, J—-,
It's very understandable that you would want your no-longer-needed items to go to "good homes."As creators, I think we instinctively want our physical possessions to not be wasted. We know that it's important to let goodness keep on flowing, so to speak. If we don't need the item anymore then we should pass it (and the goodness it represents) along to someone who does need it.
Your question is: How do you figure out who that person is?
Here is where charities (such as Goodwill, St. Vincent de Paul, the Salvation Army or Deseret Industries) can be of help. They take on the job of putting your items to good work, so you don't have to. Not only do they make it possible for people to obtain much-needed possessions at a more affordable price, but the money raised by your donation helps support the workers–many of whom are learning important job skills. To donate to any of these charities would be a "good work" or "good creation" on your part.
You would not have to feel in any way, shape or form that you were "dumping" your no-longer-needed items. Quite the contrary. My suggestion to you is this: Practice how to "let go." Carefully and respectfully fill one box or bag with items that you know you no longer need and that you are quite prepared to pass along to someone else. Let yourself feel a gratitude for being blessed with so many possessions. Be thankful for the time you have had with these particular items. Feel grateful that you have a place to take them where they can be used to help other people.
When you drive to the charity of your choice, interact with the people there in a cheerful fashion. Give them the box with a smile, knowing that you (unlike some others) are actually giving them something of worth, something that will be of use, something that won't have to be thrown into their dumpster and cost them money they can't afford. Anticipate how pleased they will be to realize that you have provided something that will actually support their efforts instead of detract from it. (Be sure to get your donation slip for tax purposes, if you want one.)
Drive away with (again) a feeling of gratitude that you were able to be of help. What a wonderful thing to be able to do! What a perfectly lovely, gentle and kind experience to have created! You will love how you feel!
Now…it isn't necessary (unless you are moving in a couple of days and have to weed things out fast) to get rid of a bunch of stuff all at once. It is perfectly acceptable for you to do a little bit here and a little bit there. Don't get rid of anything that you aren't sure about…(put those type of items in a box with a big question mark on it and get back to it later). Give it a few weeks and you might be more certain if you want to keep or let go of anything in that particular box.
As for possessions that might have some monetary value, you might hire an appraiser to come in and help you know what things are worth. It's much better to have the facts than it is to wonder. It's easier to make decisions when you have the facts. You might sell these items to a second-hand store or to a used book shop. You might have a garage sale that you advertise on Craigslist…making it less likely for you to have a problem…because you will have many people around. (Just have some other family members or friends with you at the yard sale.)
Have a wonderful time letting go.
Warm regards,
Beverly Pogue, The Homemaker's Coach™